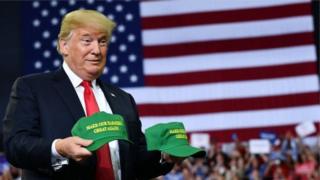 The US President Donald Trump will visit Ireland in November, the White House has announced.
It will be the first visit to the island by the US President since his election in 2016.
Mr Trump is due to travel to Paris to participate in commemorations on November 11 marking the 100th anniversary of the armistice that ended World War I.
It is unclear if he will travel to Northern Ireland as part of the trip.
The US President owns a golf resort in County Clare, Trump Doonbeg, which he bought in February 2014.
He last visited Doonbeg in May that year and was met off the plane by then finance minister Michael Noonan.
Mr Trump was due to visit again just a few months before the US presidential election, in the summer of 2016, but later shelved the plan.
The dates and exact itinerary of his upcoming Irish visit have not been released.
Brief visit
"While in Europe, the President will also visit Ireland to renew the deep and historic ties between our two nations," the White House said in a statement.
A spokesperson for the Department of the Taoiseach (Irish prime minister) said: "The Taoiseach understands that President Trump will stop in Ireland for a brief visit on his way to or from the Armistice commemorations in Paris.
"It will be an opportunity to follow up on the issues discussed in the White House in March including migration, trade, climate change and human rights issues."
Mr Trump spent four days in the UK in July, having cancelled an earlier trip originally planned for February.
Taoiseach Leo Varadkar invited Mr Trump to Ireland during a meeting at the St Patrick's Day celebrations in Washington in March.
In 2017, Mr Varadkar's predecessor, Enda Kenny, also extended an offer for the US President to come and visit.
Speaking at the time, the US President said he would "love" to visit Ireland and added: "I look forward to being there. It's a great country."
The inauguration of the Irish President is due to take place on November 11, the date of the Armistice commemoration.
The SDLP leader Colum Eastwood tweeted out his opposition to President Trump visiting Ireland.
The Irish Labour leader Brendan Howlin said that his party would strongly oppose the visit.
It also emerged during Mr Varadkar's visit to the US that he had made a call to Clare County Council when tourism minister over a proposal to build a wind farm near Trump's golf resort.
The council eventually rejected the windfarm application.