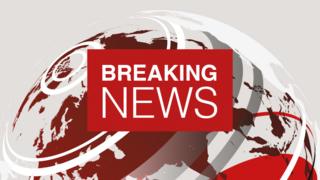 Eleven people were killed and six others injured in a mass shooting at a government building in the US state of Virginia, police said.
Police said the suspect, a long-term and current employee at Virginia Beach Municipal Center, where the shooting occurred, fired "indiscriminately".
The gunman, whose identity was not released, was killed when police responded to the incident.
Reports of the shooting started shortly after 16:00 (20:00 GMT) on Friday.
Police Chief James Cervera said the gunman was killed after officers opened fire.
"We just heard people yelling and screaming at people to get down," Megan Banton, an administrative assistant in the building, told local television news station WAVY.
A police officer was among the six wounded after a bullet struck his vest, Chief Cervera told reporters.
Police said they believed the gunman had acted alone. The motive for the shooting was not immediately clear.
The area around the building, which contains a range of city government buildings, was put into lockdown.
"This is a tragic day for Virginia Beach and our entire Commonwealth," Virginia governor Ralph Northam said on Twitter.
"My heart breaks for the victims of this devastating shooting, their families, and all who loved them. I am on my way to Virginia Beach now and will be there within the hour."
Virginia Beach Mayor Bobby Dyer described it as "the most devastating day" in the city's history.
The FBI was at the scene helping local authorities investigate the shooting, US media reported.