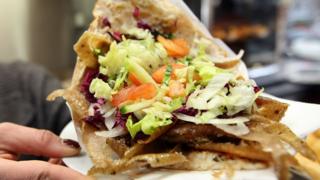 A speeding driver told police officers he was in a rush to buy a kebab when he was pulled over for travelling at 123mph on a motorway.
The motorist, who was stopped on the M62 in Cheshire at 01:45 GMT, said the reason he was speeding was he "wanted to get a kebab from Manchester".
Officers also discovered he was driving without insurance or a licence.
A 23-year-old man will face a summons for alleged driving offences, police said.
You may also like: