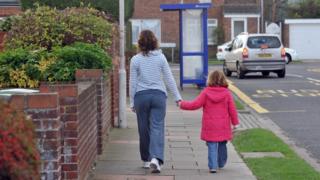 Four working single mothers have won a High Court challenge over the government's universal credit scheme.
The women say they are struggling financially because of variation in their monthly payments.
Two judges announced on Friday that the women had succeeded in a judicial review action against the work and pensions secretary.
Lawyers for the women said the problem was likely to affect "tens of thousands of people" claiming the benefit.
Danielle Johnson, Claire Woods, Erin Barrett and Katie Stewart argued there was a "fundamental problem" with the scheme which meant their monthly payments varied "enormously", leaving them out of pocket.
They challenged the method used by the Department for Work and Pensions (DWP) when calculating the payments they were due.