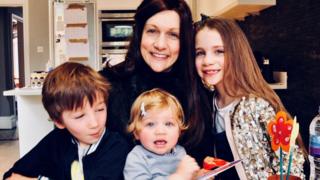 A terminally ill mother who raised more than £50,000 to pay for a nanny to take care of her three children has died.
Lisa Foster, 38, was diagnosed with stage four bowel cancer in May 2017.
Her husband Craig said she had left behind a "treasure trove" of videos for her children to view when they hit milestones in their lives.
The 49 clips include their favourite stories, plus greetings for their 18th birthdays, wedding days and first children.
Mr Foster said she had spent her final months preparing Ruby, eight, Zach, six, and two-year-old Scarlett for life without her.
She also left scrapbooks and recorded "pep talks" which would last "for decades into the future", he said.
Mr Foster, from Duffield in Derbyshire, said his wife had reminisced about old times and told him to "man up" if he was feeling sorry for himself.
She also said he was doing a great job and not to doubt himself.
"It is only since she has gone we realised how much Lisa had done to prepare us for a world without her," he said.
When she was diagnosed with cancer Mrs Foster started a blog, which has been read by thousands of people.
"The strange thing was, over time, there was something about her spirit, her attitude, the way which she was fighting, that it seemed to grow over time and [more] people discovered it," said Mr Foster.
"The last blog post she wrote more than 10,000 people read, in Australia, the US, all over the place.
"Lots of people made life changes on the back of reading it, [they] ditched partners or quit their jobs, which was strange to read.
"There was something about her message which made you realise life is short and none of us know how long we've got."
Her last blog post started, "All I ever wanted was to be a mum", and went on to talk about the "untold rounds of IVF" she went through to conceive her children.
She described being a mum as the "best job in the world" and said it was "heartbreaking to now know I can't finish the job for Ruby, Zach and Scarlett".
Mrs Foster launched the fundraising page with the aim of collecting £50,000 to fund a nanny to take care of her children after her death.
She hit the target in just six days and eventually raised £62,000.
The nanny started in June and Mr Foster said there was enough money left to pay for another 18 months of full-time care.
Follow BBC East Midlands on Facebook, on Twitter, or on Instagram. Send your story ideas to eastmidsnews@bbc.co.uk.