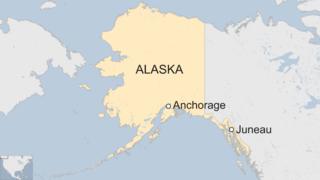 A powerful 7.0 magnitude earthquake has struck Alaska, causing people to run from buildings and prompting a tsunami alert for coastal areas of the state.
The quake was centred about 7 miles (11km) north of Anchorage, the largest city in the state, according to the US Geological Survey (USGS).
A series of aftershocks were recorded following the initial shock, which had a depth of 40.9km, the USGS said.
Around 300,000 people live in Anchorage with 100,000 in the surrounding area.
The earthquake was reported at 08.29 local time (17.29 GMT), the USGS added.
The tsunami warning issued for the Cook Inlet and southern Kenai Peninsula regions has now been cancelled.
Footage and images posted on social media showed products scattered across floors of supermarkets with shelves collapsed and lighting damaged.
The quake has also caused roads to break apart and other structures to collapse.
Local resident Travis Starling told the BBC there is currently no power or water and most radio stations are off air as aftershocks continue.
Mr Starling said that at this time of year, the state sees only six hours of daylight – "We're fortunate on timing… this happened just at sunrise."
"The aftershocks of the one today have been worse than any earthquake I've ever been in before," he said.
Former Alaska Governor Sarah Palin tweeted that her home was damaged in the quake.