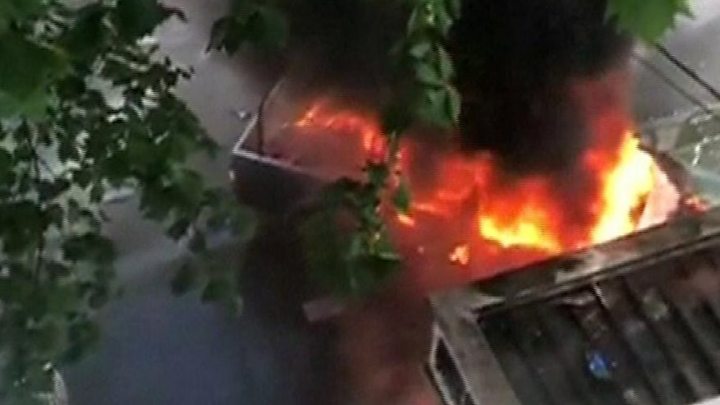 A man who set a car on fire and stabbed three people – one fatally – in the Australian city of Melbourne has died in hospital after being shot by police.
Authorities now say they are treating the attack as a terror-related.
The attacker, 31, was shot after confronting officers on a busy city street, authorities said. He was taken into custody in a critical condition.
The two survivors are in hospital, one reportedly in a critical condition. The suspect has not been named.
Police said they were "not looking for anyone further at this early stage".
"We don't believe there is an ongoing threat at this stage, but certainly we are treating it as a terrorism incident," said Victoria Police Chief Commissioner Graham Ashton.
He said the suspect was "someone that is known" to both local police and federal intelligence, adding it was "mainly in respect to relatives" who are "certainly persons of interest to us".
The Islamic State (IS) group said on Friday that one of its "fighters" was behind the attack, its Amaq news agency reported.
Officers say the man was of Somali origin and had been travelling in a vehicle packed with "barbecue-style" gas cylinders which caught fire.
Officers were initially called to reports of a car fire near Bourke Street, a busy thoroughfare, at about 16:20 local time (05:20 GMT).
"As they got out of the car, they were confronted by a male brandishing a knife and threatening them," Supt David Clayton said in a news conference.
"At the same time, passers-by were calling out that members of the public had been stabbed."
None of the three men reportedly stabbed at the scene have been officially named.
However Tasmanian Premier Will Hodgman said on Twitter that local businessman Rod Patterson was among those attacked.
"A nicer bloke you wouldn't meet," Mr Hodgman tweeted. "It's not surprising he would step in to help others. We all wish him well."
According to Victoria Police, a 26-year-old and 58-year-old were both taken to hospital with non-life threatening injuries.
A police officer was also treated at the scene.
Footage circulating on social media shows a vehicle, which appears to have crashed into shop fronts, on fire.
Police said the scene had been cordoned off, and it was being "made safe" by a bomb response unit.
The incident comes as a man is on trial for a 2017 attack on the same street which left six people dead.
James Gargasoulas is accused of deliberately driving his car into pedestrians on Bourke Street, hitting 33 people.
His defence barrister has said he was in a drug-induced psychosis at the time.