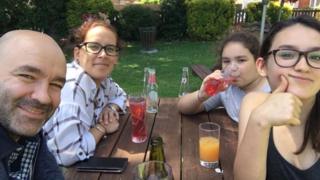 A father trapped with his family in Grenfell Tower was told "don't give up" by a 999 call operator as they tried to escape the blaze.
Marcio Gomes, his heavily-pregnant wife Andreia, and the couple's two daughters, escaped from their flat, which was on the 21st floor.
But their unborn son Logan was stillborn in hospital after the fire.
An audio clip of the family's 999 call – as they struggled to breathe and lost each other – was played on Friday.
The recording was heard by the public inquiry into the Grenfell Tower fire, which began on 14 June 2017 and killed 72 people.
'Keep going'
In the 999 call – which was made at around 03:25 GMT – the call handler guides Mr Gomes and his family out of their flat and into the smoke-filled stairwell.
She tells Mr Gomes to wrap himself and his family in wet towels and to hold hands.
"Well done, you're doing really, really well," she says, adding: "Don't give up now."
Mr Gomes can be heard telling his family to "keep going" and pleading with his daughters: "Girls, come on, it's better down here, come on."
He adds: "Girls, listen to my voice, come on. Even if you have to crawl down, crawl down."
'Take me, not my girls'
During the call Mr Gomes said he cannot find his wife – who was seven months pregnant – and his daughters, who had been beside him.
"I can't leave them," he can be heard saying. "They're not here, I don't know where they are."
As he goes back up the tower to find them he says: "Oh please, please God. Take me, not my girls."
During the call, the 999 operator says: "Be proud of yourself, be so proud. I tell you, anyone would like a dad like you, anybody."
Giving evidence on Friday, Mr Gomes recalled stepping over bodies, fearing they were his family.
"I tripped… I tripped up on some," he said. "So I started thinking that… that the bodies that I stepped over was my wife and my daughter."
The family made it out of the tower but baby Logan was stillborn and delivered by Caesarean section in King's College Hospital while Andreia was in an induced coma.
The public inquiry is in its first phase and is hearing evidence from survivors of the fire and those who lost loved ones.