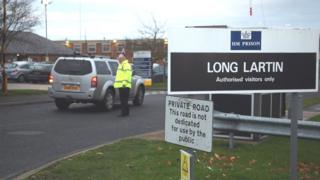 Six prison officers have been injured in a disturbance at a high security men's jail, the Prison Office has said.
Disorder broke out at HMP Long Lartin in Worcestershire at about 09:30 BST on Sunday and is ongoing.
Specialist "Tornado" officers have been brought in to deal with the disturbance, which involves eight inmates and is contained to one wing.
The officers were treated for minor facial injuries at the scene.
A Prison Service spokesperson said: "Specially trained prison staff have been deployed to deal with an ongoing incident at HMP Long Lartin. Six members of staff have been treated for injuries.
"We do not tolerate violence in our prisons, and are clear that those responsible will be referred to the police and could spend longer behind bars."
HMP Long Lartin holds more than 500 prisoners, including some of the country's most dangerous offenders.
In June it was reported that the prison's governor received hospital treatment after being attacked by a prisoner.
And in October last year riot officers were called to the prison to deal with a serious disturbance in which staff were attacked with pool balls.