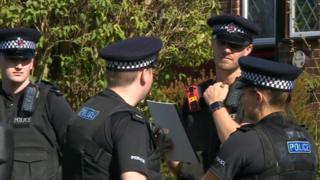 The family of a mother and daughter who died in a stabbing in a Kent village have said they are "too shocked" to comprehend their loss.
Margaret Harris, in her 70s, and her daughter Sharon, in her 50s, died at their home in Hadlow early on Saturday.
Margaret's husband David needed to be airlifted to hospital with serious injuries after also being stabbed.
Jack Ralph, 28, from Hadlow, has been arrested and charged with two counts of murder and one of attempted murder.
Mr Ralph, of Carpenters Lane, is due to appear before Medway magistrates on Monday.
Doris Pope, the sister of Margaret Harris, said: "We are just too shocked and haven't quite come to terms with it."
Neighbours described the stabbing as "truly horrific" and something that had "rocked" the "quiet and friendly" village near Tonbridge.
One local resident, Margaret Maile, 63, described the couple as "quiet but pleasant".
"They've lived here longer than us and we've been here 32 years," she said.
"It's very sad, you just don't expect something like this to happen here."
Nigel Keogh, a 51-year-old plasterer who lives across the street from the victims, described Mr and Mrs Harris as a "nice couple", adding: "They kept themselves to themselves. They own a big campervan and would go out on trips in it."
On Sunday, Reverend Paul White led prayers in the street and said the village's St Mary's Church was open to mourners all day on Monday.